China has accumulated a wealth of experience in the diet, as well as a wide variety of eating habits, but one thing is common, both use chopsticks to eat, which is obviously different from Westerners eating with knife and fork.
Western-style cutlery requires both hands, while oriental chopsticks require only one hand. The food that is clipped is generally processed into the shape and size of the clip, which is why Chinese food is the hardest work in the knife.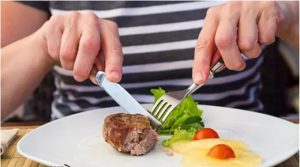 As far as we know, Chinese chopsticks appeared in the Shang Dynasty. There were physical objects unearthed in the Yin dynasty tombs in Anyang. There are records in the Qin Dynasty literature, which is called "箸(zhu)" in the literature. It has been widely used in the Han Dynasty.
The name "chopstick" appears in the Tang Dynasty, but the wording is different from the current one. This kind of writing now appears in the Ming Dynasty.
The tableware used in the West is mainly knife and fork. The knife was originally used only. The early knife was a stone knife or a bone knife. After knowing copper, there was a copper knife. After the iron appeared, the iron knife was used.
A separate knife is not like a chopstick. It is not a tableware in the strict sense, because it is multifunctional and used to slaughter, dissect, cut the meat of the hunting or cattle and sheep, and when it is cooked and edible, it also serves as a tableware.The Mede cutlery supplier offers different tablewares.
The earliest appearance of the forks of Western countries is still not clear. According to the literature, the Greek aristocracy began to use forks in the 7th century, and it was introduced to Italy in the 11th century. By the 14th century, the function of the fork as a public tableware began to become more apparent.
In the 17th century, the fork spread to the United Kingdom. At that time, conservative British people did not like to use forks. They still stubbornly used food to cut food with their hands. They used forks to eat and were also laughed at in drama.
In the 18th century, the Germans invented the four-toothed fork. In the 19th century, the British adopted the four-toothed fork as a standard form, which continued to this day. At the stainless steel cutlery manufacturers you can pick the knife and fork you want.
This is related to the fact that Western food is mainly meat, and meat is related to agricultural structure. Europe is dominated by animal husbandry, and bread and the like are non-staple foods that are taken directly by hand. The staple food is beef and mutton. It is most convenient to cut the meat with a knife and send it to the import.