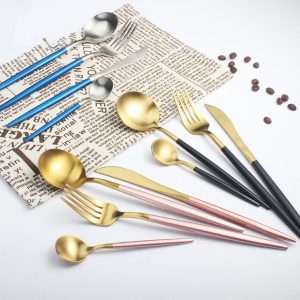 PRODUCT DETAILS
PRODUCT NAME
Gold plating cutlery set
MATERIAL
304 Stainless steel
SIZE
Big spoon: 4.5*21.5cm
Small spoon: 2.5*13cm
Fork: 2.5*22.5cm
Knife: 1.5*22cm
MOQ
200SETS
COLOR
As your requirements(ex. BLACK BLUE GREEN PINK…)
SUPPLY ABILITY
3000SET/STES DAY
PACKAGE
1sets/box ,other package as customer required
PAYMENT
T/T,L/C,Paypal
PAYMENT TERM
30% deposit,70% balance before shipment by air or express
30% deposit,70% balance against copy of BL by sea
SHIPMENT PORT
SHANGHAI,NINGBO
DELIVERY TIME
Within 15 or 30 days based on different quantity
FEATURES
Delicate and chic smooth lines, slender shape, stylish and versatile. The surface is brushed, not easy to scratch, wear-resistant, simple and beautiful. It is beautifully polished with a fine titanium plating process. The handle adopts a spray color process, which is fine workmanship, not easy to paint off, and durable.
Washing tips
1. Do not wash with strong alkaline or strong oxidizing chemicals such as baking soda, bleaching powder, sodium hypochlorite, etc. Because these substances are strong electrolytes, they react electrochemically with stainless steel, causing the tableware to rust.
2. Before use, apply a thin layer of vegetable oil on the surface of the tableware and then dry it on the fire. This is equivalent to wearing a layer of yellowish oil film "clothing" on the surface of the dish. In this way, it is easy to clean and extend service life.
3. Stainless steel tableware has lower thermal conductivity than iron products and aluminum products, and the heat transfer time is slow. The air burning will cause aging and falling off of the chrome plating on the surface of the cookware. Therefore, it is forbidden to burn.
4. It is not allowed to hold salt, soy sauce, vinegar, vegetable soup, etc. for a long time. Because these foods contain a lot of electrolytes, if they are kept for a long time, stainless steel will also react with these electrolytes like other metals to make them harmful. The metal element is dissolved. Not only does it hurt the tableware itself, but it also damages the health of the human body.
5. After using stainless steel cutlery, wash it with warm water immediately, so as to avoid the effects of oil stains, soy sauce, vinegar, tomato juice and other utensils on the surface of the tableware, resulting in dull color and even dents on the surface of the stainless steel.
6. If there is scale formed by hard water, wipe it off with vinegar or a mixture of water ash and water to wipe the stain on the stainless steel tableware, then wash it with hot soapy water.